Yes, a better future, it is not a cliché or phrase. Learning a foreign language is an investment that will soon return. A lot of new possibilities will appear, you can apply for a better job or a higher position, you will not have to use gestures … This way we could continue. The most preferred foreign language is English. However many language schools offer a wide range of other languages.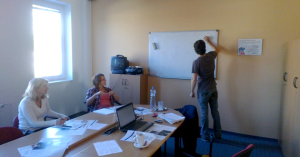 Foreign language can be mastered by Skype
It is said that the modern era is hard to stop. Everything goes forward by leaps and bounds. On the other hand, why defend against the achievements and innovations that often make our lives easier and easier. These conveniences include the chance to learn a foreign language via SKYPE. "It has its supporters and opponents. However, I can guarantee succes of this method of teaching. With the right teacher everyone can study via SKYPE from the very beginning," says Ms. Monika Janištinová, owner and teacher with extensive experience of the language agency Bieb.
Learn a foreign language with a native speaker
A Czech teacher training, such as with a native speaker brings benefits. You will improve your pronunciation and accent.  You will learn spoken English better. At certain levels you can study a foreign language with a native speaker and combine it with a Czech teacher.
Business courses are a great benefit
For business owners and employees is learning foreign language a great benefit and investment. Business courses are beneficial for both sides, both the employer and employee. Foreign language skills of employees increases and thus increases use on the labor market. Language schools are able to prepare for those courses from all areas.
Do you want to start learning a foreign language? Visit www.bieb.cz!